Scouts at the MFAH
Scouts at the MFAH
Everyday Offerings for Scouts
Want to Visit the Museum as a troop?
When it comes to a Scout outing, the MFAH is the perfect place for looking at and learning about amazing works of art from cultures all over the world. To book a visit, e-mail groupsales@mfah.org.
With So Much to See, How Do You Choose?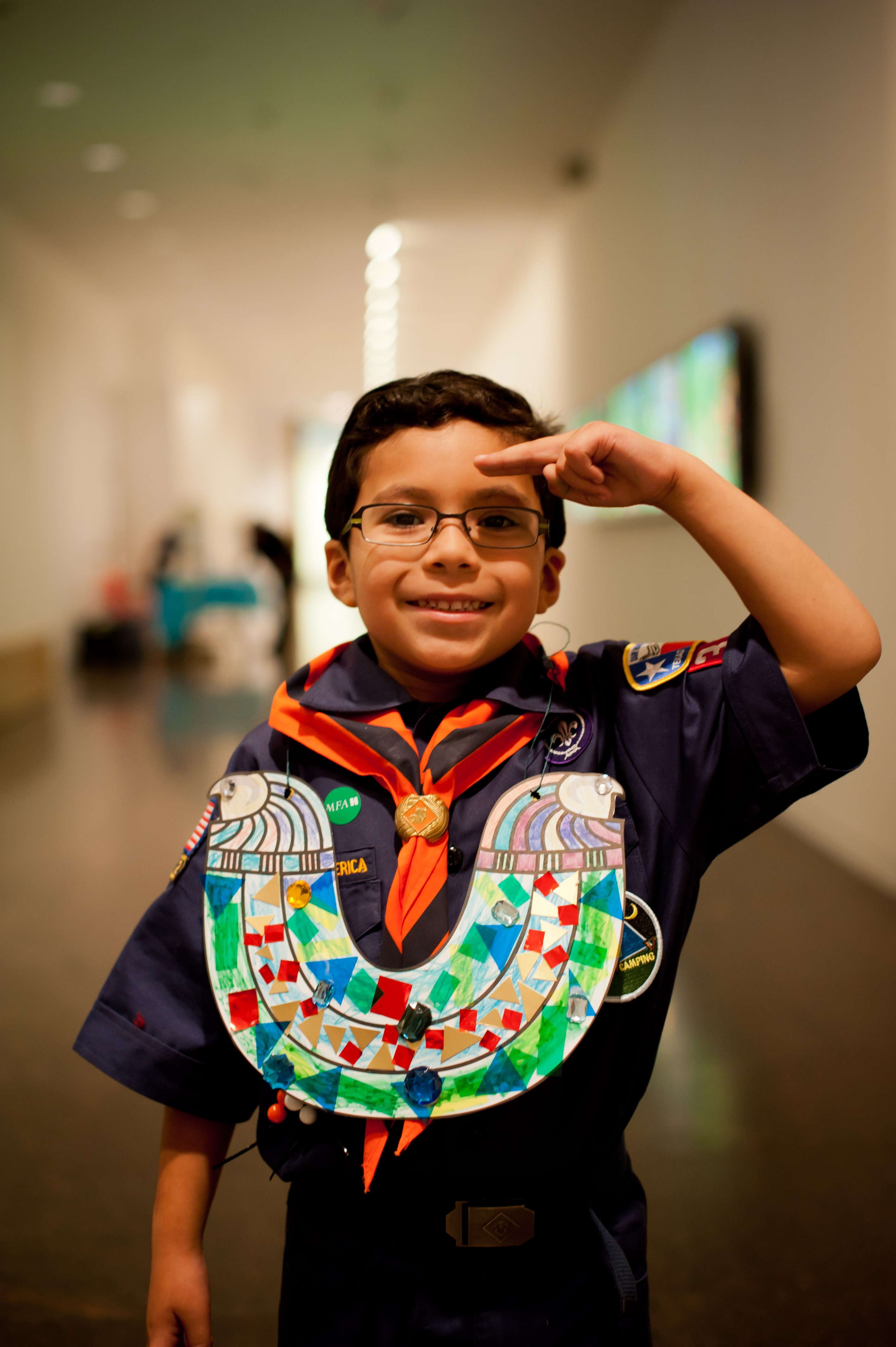 The MFAH offers resources to assist you as you guide your Scouts through the galleries.
Badge and Belt Loop Connections
Working on a badge or belt loop, or just want to see some cool art? Download and print one of these activities, and bring it with you to complete during your museum visit.
Cub Scouts Artists and Their Materials
For working on an Art belt loop.
Fulfills Requirement # 1
Girl Scouts Find Five Paintings That You Love
For working on a Painting badge.
(Artist Legacy, Brownie Level) Fulfills Step 1
The Artist's Toolbox
Designed for elementary school students, The Artist's Toolbox explores five paintings in the MFAH art collections. This resource includes a pack of gallery activities—such as creating a composition, exploring a work of art using the five senses, and sketching— that encourage close looking and creative thinking. Print the Artist's Toolbox guide before your visit and share with the adults who will lead your group. E-mail resource@mfah.org to reserve the packs, which will be delivered to you at check-in on the day of your visit.
What to See in an Hour
Any age group will enjoy seeing these highlighted works of art in the MFAH art collections. Be sure to pick up a museum map upon arrival.
Sketching in the Galleries on a Self-Guided Visit
The Kinder Foundation Education Center provides free sketching materials to self-guided groups. To arrange to pick up sketching paper, hardboards, and pencils for your students at check-in, email resource@mfah.org before you visit.
Looking for specific works of art on view? Want to find out about additional gallery resources? For more information, contact the Kinder Foundation Education Center at resource@mfah.org.
Visiting the Museum on Sunday during a Family Program? Scouts are welcome to attend Sunday Family Programs! Please keep in mind that these programs are designed for family groups, and that space is limited. Contact families@mfah.org in advance of your visit to discuss this option for your group.
Lunch Options for Groups Locations & More Information